Adams Idea Hybrid Set
Adams Idea Hybrid Set - Delivers Amazing Performance
'
'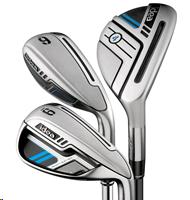 Adams is a new brand that we have been offering at Manston this year and the performance in custom fittings has been exceptional. Their fairways and hybrids are already the number 1 on the USPGA tour and are without doubt one of the easiest to use "second shot" clubs for club golfers. However it is the IDEA irons that are really standing out - numbers 4, 5, are hybrids, while 6, 7 are hybrid irons before moving to conventional irons in 8, 9, PW and SW. In two fittings this week customers have gained 20 yards with this iron.

To find out if we can match or better a 20 yard gain give us a call or click here to book a fitting. Utilising our FlightScope launch monitor we can show you your existing club head speed, ball speed, distance and accuracy and see how it compares to a professionally fitted model.

Manston Golf Centre 2018 Calender
Important dates for 2018 at Manston Golf Centre. Read more.......