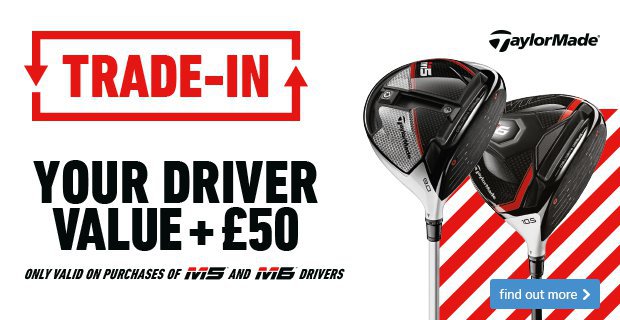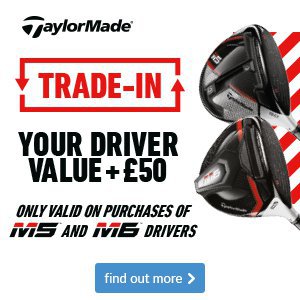 If you've been putting off that driver purchase for whatever reason, now is the perfect time to take the plunge and improve your game.

With some of the world's most elite golfers - Tiger, Rory, DJ and Rahm to name but a few - choosing to play TaylorMade, more specifically TaylorMade drivers, you can bet your bottom dollar that the new M5 and M6 drivers are something truly special.
Click here to watch our review video on M5/M6
So why is now the perfect time?
Well, we're running a TaylorMade Trade-In and here's how it works:
Bring us your current driver (accepted brands below)
We'll provide you with our valuation of your driver
Choose between the TaylorMade M5 and M6 drivers
Trade-in your current driver and get its valuation and an extra £50 OFF your new M5 or M6 purchase
So, for more information on this fantastic promotion, come and speak to a member of the team.

Terms and conditions
This promotion is subject to the following rules.
You are 18 or over and are resident in the UK or Ireland;
You purchase one Driver in store from the Retailer, at the retailer's standard price, between 1 st June - 15 th July 2019 being the promotion period;
The driver that is traded in by the consumer can be of any age, playable condition and
must be either TaylorMade, Callaway, Titleist, Ping, Yonex, Cobra, Mizuno, Wilson,
Honma, Cleveland, Srixon or PXG brand.
The retailer will provide you with a valuation for your old driver.
You are an individual golfer purchasing the Driver for your personal use and are not purchasing it in a business capacity or for a business purpose for example with the intention of reselling the Driver.
Maximum 1 trade in per customer.
The traded in Driver must be taken in-store and handed to the Retailer to validate the trade in deal. This promotion is not available online.

General points
This promotion is run by the Retailer whose decision shall be final on all matters relating to this promotion.
Nothing in these rules vary, exclude or limit any statutory rights you may have as a consumer.
Join Manston Golf Today
Enjoy membership benefits & Join Kent's friendliest Golf Centre. Improve your golf and save money too. Read more.......
Rascal Bay Adventure Golf
Whether you're a toddler, teenager, parent or a grand parent, you will laugh & enjoy your time at Rascal Bay. Read more.......
Lessons, Coaching & Fitting
At Total Golf Academy our coaches will work with you to understand your aims and ambitions in your game and help you achieve them. Read more.......