Keely Chiericato: PGA Professional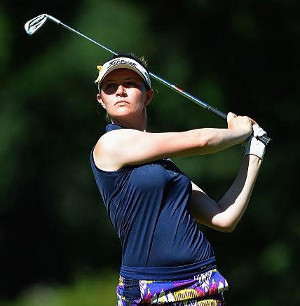 Level Two qualified coach
Junior Golf Passport tutor
Diamond Fitting Qualified
PGA Class AA member
Protecting Children In Sport Workshop
Disability Qualified Coach
Keely's coaching method is to appeal to how the player learns best, so use drills that can be replicated either at home or the range. She also incorporates video analysis into her sessions to allow players to view their correct position and be able to repeat it.
During all of her lessons, she makes sure she doesn't over complicate things. She has a large clientele of ladies that she coaches, and also specialises in coaching juniors, although she is happy to work with anybody who is looking to improve their game.
She has been coaching for 6 years, and competes regularly on a variety of professional circuits and has a long term ambition to play full time.

Roll up coaching times:

- Monday ladies roll up - £10 11am-12pm all standards welcome
Phone prior to coming to check session is on though as due to playing commitments I'm not always there.

- Junior roll up lessons - Monday 5pm-6pm £7 all standards and ages welcome.
Saturday's 10.30am-11.30am all ages and standards welcome.

Testimonials:
"Daniel is fortunate to have such a wonderful coach, not only extremely talented in her own right, not all coaches are... (well done on your return comp!) but with qualities too, to help and work with Daniel the way she does is amazing, he looks forward to his golf more than anything and the rapport between them is lovely.

I'm so proud of what my son has achieved through this amazing person. Keely, thank you for what you're doing, I'm watching Daniel's confidence grow each week in all ways, you're fantastic xx"
"Just finished some winter lessons with Keely and I am really pleased with my improvement (and it shows).
At my age I never thought I would achieve the standard I have.
Her tuition is relaxed , friendly and fun ; she spots your strengths and weaknesses ....breaking your swing down in a way that other coaches haven't managed previously.
It's also great to have someone who enjoys seeing your progress.
I now feel much happier on the golf course and will have periodic lessons to try to keep this up. Thanks Keely."
Jane Mann


"Keely is a highly gifted and well qualified professional golfer. She is also an outstanding teacher with particular skills in teaching children and young people in both groups and individually.
My 12 year old grandson has been learning the game with Keely for some years and has has grown to love it. She has discovered and nurtured good golfing potential in the lad and there is no doubt that he will go on to become a very useful golfer.
Keely has an instinctive and easy rapport with children and her classes are well-structured, stimulating and effective.They not only learn the mechanics of the game but the behaviour, attitude and etiquette so central to the sport.
She is a fine young woman"
Malcolm Green

"My son started lessons with Keely when he was 14 years old, he took to Keely immediately and felt comfortable during tuition.
I have watched him improve week after week and I now see him with a lovely looking swing and enjoy a game with him. He has got lots to learn, but for his initial and ongoing tuition I can not praise Keely enough.
Keely has been polite, professional, calm patient and confident in all aspects of her tuition.
I certainly recommend Keely from my experience in dealing with her, also on behalf of my son who is looking forward to getting better and better thanks to some great teaching."
Alan

"Being a 22 handicap was proving to be a stumbling block, so my children bought me a round of golf 9 hole. A very close friend said he thought that a round with Keely would be beneficial to me and she would be a coach that I would probably benefit more from and to bring out the best of me. Well guess what, he was right, that's not to say that any of the other coaches wouldn't have done the same, but I clicked with Keely straight away.
We had a chat and a round of golf and Keely decided that my short game needed some improvement, mainly chipping into green and around the green. Well the lessons really paid off. But I must haste to add that the physiological side of Keely's coaching was a god send. It is hard to explain but she has a very good quality in the fact that she can make you more confident within yourself which in turn makes you a more confident player. I've always been one for beating myself up if I made a bad shot or quit on the ball, even though I am a 22 handicap. But Keely was quick to make me realise there's a positive in every negative and that to me was all I could have asked for. Now I have taken the positive attitude into my game and my life (even at 60 years, your never too old to change)
Thank you Keely and bless you."
Kind Regards
Andy Wall
"Keely, just want to say how much I appreciate the progress made thanks to your coaching. I really thought my back problem would finish my playing but so pleased to say I was wrong."
Bob Wallis
"Where do I begin.....

Keely has probably done more to help me advance my game than anyone.

She helped adapt my game to my frailties whilst giving great enthusiasm, cheerfulness and support.

I have been elsewhere but now I will go nowhere else to get advice, whether it be on my game or choice of equipment, or for tuition.

I cannot recommend her highly enough.

Jackie Bagley"
Westgate Golf Club
"Having moved to the area as a novice golfer I found it hard to know how to move my golf further. Luckily someone told me about Manston Golf and I met Keely at one of her weekly Ladies clinics.
She has proved an excellent instructor, patient and encouraging while making learning fun. Thanks to her I have gained the confidence to join a golf club near me and upgrade my clubs while continuing to benefit from her coaching."
Jennifer
"My son Riley who is 6 has attended golf tuition with keely for approx 2 years. During that time he has grown in confidence and enjoyed being taught to play the game of golf! The sessions are varied and kept fun and he enjoys the games they play. Keely is great with the kids and makes sure they not only learn something but have great fun while doing it. I would recommend the sessions to both girls and boys and believe it offers them a fun and exciting hobby."
Nicola


"Golf clubs can be intimidating places, especially for women! I had been attempting to play golf for a year & was frankly disillusioned by the game. It was a stroke of luck to find that Manston Golf Club had a female coach & so with certain trepidation, I signed up for the six lesson deal with Keely Chiericato.
Keely's coaching is excellent, as she combines patience with humour, in a non-patronizing manner. She will take you back to basics, explain & demonstrate different shots - always trying to personalise how best to learn. She is a natural coach & her love of golf is contagious!
As a recently retired teacher & someone who helped to train young staff, I cannot commend Keely's tuition enough! Since starting at Manston I have recommended Keely to friends who want to take up the game & even managed to win a round of golf! None of this would have been possible without Keely's inspirational coaching!"
Caro Walters

"I first noticed Keely whilst practicing at Manston Golf Centre, she was giving a lesson in the next bay.
I was impressed by her clear, concise style of coaching and excellent interpersonal skills.
I booked a series of lessons, which are ongoing. Since then my game has improved considerably.
Keely has a variety of ways to iron out niggles in my game, if one option doesn't work, she will offer several alternatives, one by one, until the niggle is erased. The sessions are focused and enjoyable!
Keely is dedicated and well-disciplined in her approach to coaching".
Michael Hinton
St Augustine's Golf Club

"I have had 8 lessons with Keely since January this year.
We had a chat to see what experience I had, i was a complete novice never playing golf before.
Keely asked me what I wanted to achieve from each lesson, she is friendly, helpful and patient whilst teaching me. I have enjoyed every lesson.
Keely breaks the lesson down to one step at a time so that it is easy to understand, she encourages me and pays attention to detail so that i can improve my stroke and technique.
Keely has given me the confidence to go out on to the 9 hole course at Manston.
I would encourage anyone who would like to improve their golfing skills to have lessons with Keely, you will certainly see a difference."
Regards
Sheila Cleary
Manston Golf Centre

"I am now half way through a 3rd set of 8 lessons with Keely. I have been impressed with her coaching compared with other golf coaches I have experienced. Keely is a good listener to what you wish to achieve, and is able to analyse and suggest easily understandable solutions to improve that particular aspect of your golf game. Personally, I now drive the ball 40yds further, hit my irons 10yds further, can now hit 5 and 6 irons with some confidence, can get out of bunkers and have greatly improved my putting. I have found my lessons good value for money, and have no hesitation recommending Keely to other golfers who wish to improve their game."

Ian Harding
Canterbury Golf Club

"The lessons I have had with Keely have improved my game greatly I understood what I was doing wrong because she explained so simply and logically I am very grateful to Keely for her help I started out at 23.5 I am now 18.9 thank you Keely"
Gwyn Oakley
Whitstable and Seasalter Golf Club
"Keely is very good at finding the underneath cause of my golfing problems and with informed advice and practice is able to correct them. This is undertaken with flair. patience and humour. I always look forward to my lessons with her."
Beryl Howells
Whitstable & Seasalter Golf Club
"I have been having lessons with Keely for a while and she has taken me from an almost complete beginner to someone who now plays regularly. Just when I am at my most despondent Keely manages to quickly see what is causing the problem and offers me a way to correct it - but alongside that she is always so positive and enthusiastic. She loves golf and she knows that I can too. She has had the most amazing impact on every aspect of my game - and crucially at those times when I think 'it has deserted me' she manages to help me find it again. A star."
Lesley & Lorraine
Manston Golf Centre



"I am a member at Manston Golf Club and have had a couple of problems with my golf swing after a small shoulder injury which had been troubling me for the past year and I was thinking of giving up golf, when one of my golfing friends persuaded me to keep at it and try some lessons with Keely and I am so pleased I did.
Keely had a great way of explaining how to correct the problems I was having with my golf swing with her enthusiastic teaching approach and her detailed explanations she helped me enormously, not only physically but also psychologically she has helped me get it all back and my confidence has also returned. Keely also taught me not to stress myself out if I make a bad shot, I now hear her words in my head telling me to relax and clear it from my mind and think positively for my next shot. It took me a little while to put her words into practice but my golf is back to where it used to be and I'm enjoying every game.
Thank you Keely for your encouragement and enthusiasm, you are a great teacher!"
Trish Dunville-McCombe
Book a Lesson
Book a lesson or consultation with one of our PGA Qualified Golf Professionals. Read more.......
Join Manston Golf Today
Enjoy membership benefits & Join Kent's friendliest Golf Centre. Improve your golf and save money too. Read more.......
Rascal Bay Adventure Golf
Whether you're a toddler, teenager, parent or a grand parent, you will laugh & enjoy your time at Rascal Bay. Read more.......
Lessons, Coaching & Fitting
At Total Golf Academy our coaches will work with you to understand your aims and ambitions in your game and help you achieve them. Read more.......