The Agony of Choice
Spikeless golf shoes have come a long way in recent years, with the myth that they offer considerably less traction than cleated models a thing of the past. Here we showcase a model of each option that we particularly like, both of which you can buy through us.
Cleated: adidas Tour360 XT
The perfect cleated option for those winter rounds of golf, with superb traction and stability thanks to its eight ThinTech cleats; ideal for when the ground is particularly wet.
The premium leather, seam-sealed waterproof upper gives you the best protection and comfort money can buy - coupled with its rich look and soft feel, these shoes really do have everything.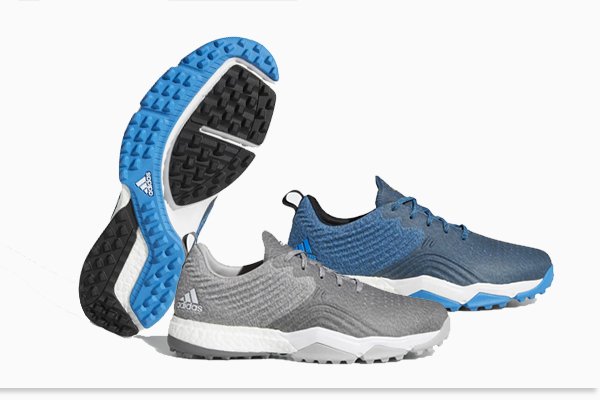 Spikeless: adidas Adipower 4ORGED
As with the other shoe here, this model has Boost cushioning for total comfort and enjoyment, whilst its enhanced outsole has strategically placed pods for brilliant grip and stability no matter the weather.
Not only that, the fact that it's spikeless means you're able to wear these shoes both on and off the course at your leisure – we couldn't recommend these highly enough.
Back to Articles
Book a Lesson
Book a lesson or consultation with one of our PGA Qualified Golf Professionals. Read more.......
Join Manston Golf Today
Enjoy membership benefits & Join Kent's friendliest Golf Centre. Improve your golf and save money too. Read more.......
Rascal Bay Adventure Golf
Whether you're a toddler, teenager, parent or a grand parent, you will laugh & enjoy your time at Rascal Bay. Read more.......
Lessons, Coaching & Fitting
At Total Golf Academy our coaches will work with you to understand your aims and ambitions in your game and help you achieve them. Read more.......