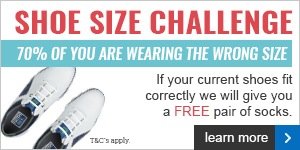 Are you confident that you're wearing the right size shoe?
We know that 70% of you aren't which is why we've set you the Shoe Size Challenge. All you need to do is come into the shop in the month of April and get professionally shoe fitted. It's a very quick and easy process as we're an official FootJoy shoe fitting partner, and if you are in the right size shoe we will give you a FREE pair of ProDry socks. There's no obligation or cost so you have absolutely nothing to lose, but it would be interesting to see if you've been wearing the wrong size all your adult life...
As the video below explains, shoe fitting isn't just about length but width too. In this video, Foremost TV speaks to Mike Foley, Footwear Product Manager, FootJoy, about why it's so important for golfers to get fit, and how FootJoy, alongside our team, can help.
So make sure you take us up on this offer in the month of April - full terms and conditions are below.
In the meantime, click here to explore FootJoy's 2017 line-up.
Terms and conditions
Offer available from 31st March 2017 until 30th April 2017 or while stocks last.
A free pair of socks will be given if your current golf shoes are deemed to be the correct size having been professionally fitted by one of the qualified pro shop team.
Professional reserves the right to end the offer at any time without prior notice.
Manston Golf Centre 2018 Calender
Important dates for 2018 at Manston Golf Centre. Read more.......